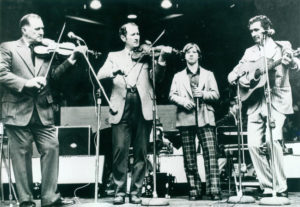 The Balfa Brothers
A brief history…
The Balfa Brothers (or Les Frères Balfa) were an American Cajun music ensemble from Bayou Grand Louis near Mamou, Louisiana. Its members were five brothers; Dewey on fiddle, Will on fiddle, Rodney on guitar, harmonica, and vocals, Burkeman on triangle and spoons, and Harry on Cajun accordion.
The brothers first played together at family gatherings in the 1940s. Along with Hadley Fontenot, an accordionist and acquaintance of the family, they made their first recordings at their home in 1951. After this Dewey went on to a successful solo career, recording on his own and with many ensembles. In 1964 Dewey performed with Gladius Thibodeax and Louis "Vinesse" LeJeune at the Newport Folk festival in Rhode Island. They received a standing ovation from an audience of 17,000 people, most of whom had never heard Cajun music before.
Adopting the name Balfa Brothers in 1967, Dewey, Rodney, Will, Hadley Fontenot, and Dewey's daughter Nelda started touring folk festivals and European venues, playing Cajun music at a time in which its impact on American music had largely been forgotten. They made their first new recordings that year, and played at the 1968 Summer Olympics in Mexico City. They released several albums together and even appeared in the 1972 documentary, Spend It All. After Rodney and Will were killed in a tragic car accident in 1978, Dewey Balfa carried on the Balfa Brother's tradition with Rodney's son, Tony, and other musicians.
Awards…
CFMA's Hall of Fame Inductee: Dewey Balfa (1997)
CFMA's Hall of Fame Inductee: Rodney Balfa (2015)
CFMA's Hall of Fame Inductee: Will Balfa (2015)
Reviews…
The Beat
Nathan Abshire – The Best Of… A Cajun Legend
and Dewey Balfa – Cajun Legend
When people in the "business" refers to roots music, often forgotten are some of the wonderful styles fostered and developed in North America. One such tradition is Cajun music. Once of the foremost recent stylists of this music was Nathan Abshire. An accordionist's accordionist, he picked up the squeezebox at age 6 and never put it down. He played the music the way it was meant to be played – with heart and passion. Fortunately, when he died in 1981, Abshire left a legacy of tremendous music, much of which is found on this "best of" cd. From the jubilant cry that kicks off "Pine Grove Blues" to the "last dance" feel of "Partie A Grand Basile", Abshire guides us through an hour of joyful and spirited celebration. Led by his accordion, backed by the rhythms of the Balfa Brothers and punctuated by emotional if occasionally piercing vocals, this collection is a moving tribute to a culture that has struggled for years and, thankfully, persevered.
Another carrier of the Cajun cultural torch is Dewey Balfa, the fiddler from the old Balfa Brothers band. On his own since the deaths of his siblings Rodney and Will in 1979, Dewey has continued in his role as a Cajun musical ambassador ever since. Unlike Abshire's music, Balfa's style is fiddle-driven with the accordion more in the background. The fiddle is a versatile instrument, and in the master's hands it shows all of its moods, from jubilant to mournful and everything in between. The 21 cuts are mostly instrumentals. This, however in no way diminishes the impact of the music. With the help of his son Tony on guitar, daughter Christine on triangle, father-son fiddle combination Tracy and Peter Schwarz, young accordionist Robert Jardell and others, the elder Balfa crafts a finely honed collection of Southern songs that are comfortable to dance to or to enjoy relaxing in your favorite chair.
By Stephen Beaumont
Related links…