The Original Swamp Gold Collection
In the early 50's, a special brew of rock and roll music was developing in Cajun South Louisiana. This new sound blended Rock & Rock, New Orleans rhythm and blues, country, blues, and Cajun into a musical gumbo, and it was simply called South Louisiana music – until British fans named it "Swamp Pop" in 1971. Since its first record release in 1957, JIN Records has been the premier label of Swamp Pop releases, releasing hundreds of 45rpm singles and several albums in the years that followed. Radio stations and juke boxes exploited the many regional hits. Many releases by artists like Rod Bernard, Johnnie Allan, Jivin' Gene, Clint West, Tommy McLain, Rockin' Sidney, Cookie & the Cupcakes, Warren Storm, and others became national and international hits. These Swamp Pop artists have sold millions of records, far surpassing current Cajun and Zydeco artists, yet Swamp Pop remains the least recognized of South Louisiana's indigenous music. Swamp Pop still survives today and has been preserved for generations to enjoy in this unique collection of original hits from the Golden Era of Louisiana Swamp Pop.
Swamp Gold Country

– Volumes 1 & 2
SWAMP COUNTRY Music is the country cousin to Louisiana Swamp Pop Music as on Jin Record's successful Swamp Gold compact disc series. Like Swamp Pop, Swamp Pop Country is also named such mainly because of the region the music comes from. In style, the music is for the most part just as "country" as most anything recorded in Nashville at that time. However, several factors maintain its uniqueness from mainstream country music. One of those is the fact that many of these songs were recorded by bilingual recording artists who have made their names most from recordings in Cajun Music in the Cajun-French language or Swamp Pop recordings in both bilingual and English. Another factor is the unique compliments to the main subject matter the songs are based on. Many go beyond the typical "heartbroken" scenario by singing of things unique to south Louisiana which south Louisianians can relate to, like our work, our food, and our pastimes. Some were simply just done-over in Cajun French. This type of songwriting made the widely popular songs much more personable to its Cajun fans. Of course, some are just good ol' country songs sung by good ol' south Louisiana artists.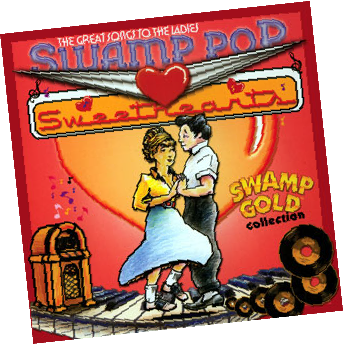 Not surprisingly, since the earliest days of South Louisiana Swamp Pop (the mid to late '50s), sweehearts, ex-sweethearts, best friend's sweethearts, the girl in the next row of algebra class, the prettiest girl at the fais-do-do, and the youngest daughter of Rufus Thibodeaux, have been inspirations for much of the genre's best known songs. Therefore, it makes perfect sense that Jin Records (the original Swamp Pop label and the only one named after the founder's lifelong sweetheart) pay tribute to the fairer sex by assembling songs of tribute de femme! – Jeff Hannusch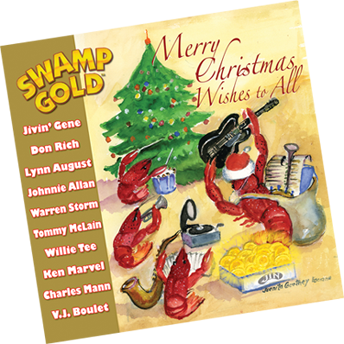 Merry Christmas Wishes to All
Swamp Gold for Christmas! Have a SWAMP GOLD Christmas with performances by some of the biggest names in Swamp Pop, such as Johnnie Allan, Tommy McLain, Willie Tee, Charles Man, Warren Storm, Don Rich & more! Includes new songs by our songwriting legends. Released in November 2012, 13 tracks.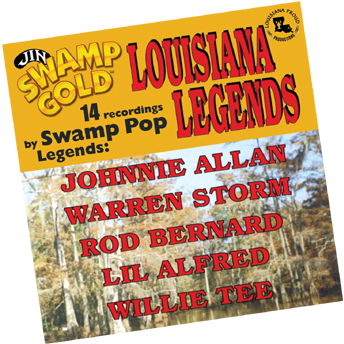 In 1999, famed south Louisiana radio entrepreneur Paul Marx, along with assistance from artist/producers and engineers Steve Grisaffe, Terry Dupuy & Mark Gamache, and a legendary cast performing vocalists and musicians recorded this masterful collection of 14 new Louisiana Swamp Pop recordings. Many of these were immediate regional radio hits, but all made up a note­worthy collection of recordings. To date, since this album was pro­duced, the music world has lost two of our Louisiana Legends featured here, Lil' Alfred Babino and Rod Bernard. -Chris Soileau, Jin Records (2020)