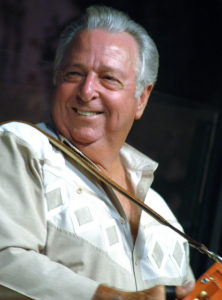 Belton Richard (1939-2017)
*photo courtesy of David Simpson
A brief history…
Belton Richard was born on October 5, 1939, in Rayne, LA. He was one of the most popular Cajun musicians of the 1960s & 70s. The polished rock-and country influenced sound he developed was representative of the trend in South Louisiana during that time to modernize the music.
Many popular bands followed Belton's lead toward a smoother, broader, more complex sounds.  He led one of the 'big bands' in Cajun music, sometimes with as many eight or nine players. Some of today's most popular singers, including Johnny Sonnier and Wayne Toups emulate his silky smooth vocals, as well as his snappy accordion style.
He is best known for his beautiful original waltzes, including "La Valse d'Ennui," "Pardon Waltz" and "Waltz of No Return," but he also recorded many two-steps and popular cover version of other hit songs, including "Cajun Streak," an inspired translation of Ray Steven's novelty hit.
In 2004 Belton proved he still has what it takes and was given the Male Vocalist Of the Year Award by the Cajun French Music Association.
Belton passed away June 21, 2017. He was 77 years old.
Awards…
CFMA's Hall of Fame Inductee (1997)
Acadian Museum's Living Legends Inductee (2003)
CFMA's Male Vocalist of the Year (2004)
Louisiana Music Hall of Fame Inductee (2011)
Reviews…
OffBeat Magazine, Dan Willging (April 2019)
SW 6234: With interest mounting in the musical legacy of Belton Richard, it seems criminal that not all his discography has been released on CD, since virtually every contemporary Cajun band has recorded at least one song of the iconic legend, if not several. Some, like High Performance, the Pine Leaf Boys and T'Monde, have led this somewhat revivalist charge by introducing the charismatic baritone vocalist to the next generation. Though this mammoth two-disc, 49-track collection (1963–2003) contains fan-favorite selections from various LPs and CDs, the real centerpiece is the staggering 19 tunes, like "Aces Rock" and "Let the Little Girl Dance," that were only released as 45s. Now casual fans can have what seasoned record collectors have all centralized in one place.
Of those 45 rpm rarities, two Lefty Frizzell tunes ("I Love You a Thousand Ways," "Look What Thoughts Will Do") are from Richard's previous label Chamo. Interestingly, on both of these, Richard croons in English, something he rarely did. There are two versions of "Cherokee Waltz," the released 1967 version and the original studio outtake where you hear the jovial banter and the false starts and stops.
According to High Performance's Jamey Bearb, nearly all of Richard's songs were popular and over time, audiences have come to appreciate lesser-known tunes like "Funny Face," "Wedding Bells" and "You Can't Take My Wife," all heard here. There's certainly a ton to digest: classic originals, Cajun standards and adaptations of French-sung country songs. If someone tells you Belton Richard isn't cool, disown them, immediately.
Related Links…