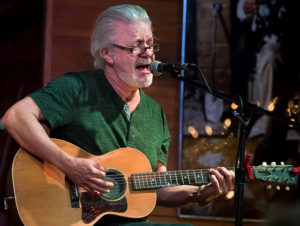 Sam Broussard
*photo courtesy of David Simpson

A brief history…
Sam Broussard was signed to Capitol Records in 1971 as part of the adventurous acoustic quartet of Louisiana boys called Manchild. As a teenager he shared the stage with the likes of Ramblin' Jack Elliot, Sonny Terry and Brownie McGee and Dave Van Ronk. He went on to do studio and roadwork with Michael Martin Murphey, Nicolette Larson, Foster and Lloyd, Jimmy Buffett and countless others during his stay in Nashville. During his Colorado days he often played with Robben Ford: "I kept up with him a few times." In the mid-90's he toured Europe, recording, filming and writing with million-selling franco-swiss star Stephan Eicher.
Over the years, Sam developed a broad style of playing that mixed everything from the acoustic and electric repertoires, culminating in the alt-tunings and slide work of his solo record "Geeks," winner of several awards from New Orleans' prestigious Offbeat Magazine, member of several Cajun groups including T-Mamou as well as Steve Riley and the Mamou Playboys and his current project with Barry Jean Ancelet, BROKEN PROMISED LAND.
Awards…
2016 Grammy Nominee for Best Regional Roots Music Album  for BROKEN PROMISED LAND

2011 Grammy Nominee for Best Regional Roots Music Album  for GRAND ISLE

2008 Grammy Nominee for Best Zydeco or Cajun Music Album  for LIVE AT THE 2008 NEW ORLEANS JAZZ & HERITAGE FESTIVAL

2003 Grammy Nominee for Best Traditional Folk Album  for BON REVE
Reviews…
KnowLouisiana.org, Winter 2016
Since 1958 the Ville Platte–based Swallow Records and its subsidiary labels have released a wealth of Cajun, zydeco, and swamp-pop classics. Despite this extensive catalogue it is unlikely that anything in Swallow's vast vaults bears much resemblance to its newly released "Broken Promised Land"—a brilliant, edgy, genre-defying album by Barry Jean Ancelet and Sam Broussard. Ancelet has devoted his eminent career to the study and documentation of French Louisiana's cultural, linguistic and folkloric traditions, and their connections with the rest of the French-speaking world. Accordingly it may seem like a radical departure for him to contribute all the lyrics, and four lead vocals, to this startling project produced by Broussard. "Broken Promised Land" encompasses art-rock, electronic music, and futuristic abstract soundscapes, as well as syncopation and poly-rhythms, passages of jazz and classical music, searing guitar solos, exquisitely subtle interludes, and the distinct influence of both The Beatles and The Band, alongside Cajun music, zydeco and country. In addition to this improbably rich mélange, some of the songs' structures—the poignant "Appuyé dessus la barre," for one—take fascinatingly circuitous paths before harmony and melody resolve at the end of each verse.
For a sense of how this freewheeling approach holds together, consider the album's opening song, "Conte de faits." It starts with bluesy guitar chords and stinging single-note licks played over ambient effects that suggest both howling winds and police sirens. These fade, but the guitar builds throughout the intro and continues after Broussard's vocal comes in. His first verse is followed by a lengthy guitar solo with dramatically increasing intensity, underpinned by the introduction of a drumbeat with a metallic/industrial sound. Broussard plays the latter part of this solo over descending figures provided by a horn section that appears unexpectedly, contributes its part succinctly, and then vanishes. The second verse finds Broussard singing at full throttle, accompanied towards the end by back-up vocals with a gospel-music tinge—and then the song abruptly stops cold.
Broussard demonstrates national-level production skills by binding these disparate and wildly imaginative strands into a cohesive whole. The most dramatic examples are "Conte des faits," "Trop de pas," "Personne pour me recevoir," and "Pour qui?" Other songs unfold in a more straightforward manner that reveals a core of Cajun music, zydeco, and country. The result is an ambitious yet fully realized project that is unique in the history of French Louisiana's music. Appearing less than a year after the release of "I Wanna Sing Right: Rediscovering Lomax in the Evangeline Country" (see Sound Advice, Spring 2016)—which was also groundbreaking, in a different sense—"Broken Promised Land" underscores the impressive musical creativity that is absolutely surging today in southwest Louisiana.
Broussard, who currently plays guitar with the Cajun band Steve Riley and the Mamou Playboys, is a multi-instrumentalist, a bilingual singer and a songwriter with decades of professional experience in the United States, Europe and Africa. He has released two solo albums, "Veins" and the critically acclaimed "Geeks." Broussard sings lead on six of the songs here, and his expressive voice can run the gamut from plaintive ("Personne pour me recevoir") to urgent ("Conte des faits"). Ancelet can likewise range from wistful ("Appuyé dessus la barre") to ominous ("Le loup"), as the moment demands. Anna Laura Edmiston contributes a gorgeous vocal on the pensive waltz"Coeur Cassé." Broussard plays almost all of the instruments here, overdubbed, with David Greely and Gina Forsyth adding fiddle parts and Christine Balfa and Danny Devillier making rhythmic contributions on triangle and drums, respectively.
Since 1980 Ancelet has been writing widely published poetry in French, under the nom de plume Jean Arceneaux. "Broken Promised Land" consists entirely of Ancelet's poems set to music. "Sam and I worked on this project for our own enjoyment, in his own studio," Ancelet recalls, "so we had the luxury of unlimited time to experiment with ideas. I respect Sam deeply, we are life-long friends, and I learned so much about the craft of singing from him that I feel I owe him tuition. Sam came up with most of the tunes and basic arrangements, but we talked constantly about what to do with each song. . . . We were both interested in representing our varied backgrounds that include the blues, rock, country, Cajun, zydeco, jazz and pop . . . our '60s roots."
Broussard similarly cites '60s music as influencing his production sensibilities: "What that era gave to me was a higher proportion of pop songs that had great lyrics and melodies, chord changes that were interesting just on their own, and brilliant instrumentation." Broussard also "took two semesters of theory and composition a long time ago. Learning Bach four-part writing was life-changing. And," he concludes,"I have to give a bow to our engineer, Tony Daigle" for his contributions to this technically complex project.
Ancelet's lyrics (English translations of which appear in the liner notes) are at times disquieting, as on "Conte de fait":
"All the children escaped
When the devil left open
The door of the cage that he had made
To capture and tame them long ago
"The devil chases them
And finds them all, except for the tricky one
Who had hidden in the cage.
To avoid the rage, the rage of the devil,
The devil fooled."
"I sometimes focus on dark themes," Ancelet says. "I push myself into an improvised nightmare and then write out of that. But there are other issues on this album, including a condemnation of the manipulated violence in the world, a questioning of the trappings of organized religion, and an exploration of the tension between French-based and English-based identities, tradition-based and modern-based identities." He also points to other influences that shape the album: "There's a song written in the voice of Amédé Ardoin, and a celebration of the Creole storyteller Ben Guiné, from Promised Land, a rural area on Bayou Teche near Parks in St. Martin Parish." These themes are additionally reflected in the surreal cover art by the gifted Lafayette painter Olin "Leroy" Evans.
LCV readers who do not speak French will nonetheless find considerable substance on this remarkable album. The emotions conveyed transcend language. And the instrumental settings offer new sonic revelations with each successive listening.
by Ben Sandmel
---
Offbeat Magazine, September 2016
For decades now, retired ULL professor Barry Ancelet has written French language poems and lyrics under the pseudonym of Jean Arceneaux. A few have been recorded, such as "Late in Life," the 1992 CFMA Song of the Year that was co-written with Wayne Toups. The roots of this collaboration began when Ancelet gave Mamou Playboys' guitarist Broussard some minimalist lyrics that blossomed into the electrifying "Menteur" found on Steve Riley's 2008 Best Of disc.
This set is a brilliant showcase of Ancelet's thought-provoking poetry and Broussard's genius arrangements. Only three tracks feature guest musicians. Broussard played everything else: acoustic, electric and lap steel guitars, fiddles, bass, harmonicas, flutes, saxes and programmed percussion all recorded in his home studio.
Interestingly, for being an account of Amédé Ardoin towards the end of his life, "Une Dernière Chanson" is a surprising steel guitar and fiddle–fueled country two-stepper. The despairing loneliness of "Appuyé Dessus la Barre" is folk-centric and haunting, yet replete with a beautiful, sunny solo.
As Ancelet's poems vary in subject, Broussard counters with creative arrangements to suit whatever's on hand, whether it's a protest rocker ("Trop de Pas"), a wall-rattling bluesy howl ("Le Loup"), or a densely layered, poignant ballad ("Personne Pour Me Recevoir"). While Ancelet and Broussard alternate vocals and occasionally harmonize, Anna Laura Edmiston blows the doors off with her enchanting performance of "Coeur Cassé."
To break up the vocal content, Broussard tosses in a quasi-orchestral instrumental—"Pour Qui?"—that's simultaneously jazzy and cinematic. A rare recording that gets deeper with each and every listen.
by Dan Willging
Related Links…